Service Provider Outreach Toolkit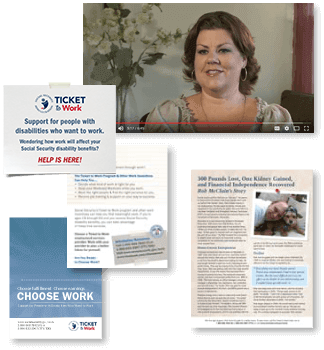 This is your one-stop resource for Ticket to Work Program materials. These powerful materials were created to support the activities of Employment Networks (ENs), Vocational Rehabilitation (VR) agencies and other SSA-approved disability employment-focused organizations as they assist people with disabilities as they enter or re-enter the workforce.
The materials are designed to be tailored to suit your organization's messaging about its involvement in the Ticket to Work Program and will be updated periodically to reflect program changes and posted to this site. Put these materials to work for you!
The following buttons are links to each type of resource which includes images, a description and download instructions.
Questions? Contact us at ticketmaterials@yourtickettowork.ssa.gov.